DIVISION NEWS
IN MEMORY OF
ANNABELLE MAHAR 

After qualifying from medical school at the university of Adelaide in 1992 Annabelle travelled around the world honing her skills in a variety of well recognised and venerable institutions.
She started her training in anatomical pathology at the Glasgow Royal Infirmary in Scotland where she became interested in bone pathology working with Professor Robin Reid. She completed her training in Anatomical Pathology at the Institute of Medical and Veterinary Science in Adelaide and from then on travelled the world augmenting her skills. She did a a Fellowship in pulmonary pathology at Duke University in North Carolina and had a brief period as an observer in pulmonary pathology at the Mayo Clinic in Scottsdale Arizona. She went on to work as locum consultant pathologist, initially in Brisbane at the Prince Charles Hospital, thence at St. Georges in London, The Western Infirmary in Glasgow and at the John Radcliffe Hospital in Oxford.
In all of these she impressed colleagues with her skills and knowledge and made fast friends with most.
She returned to Australia in 2010, taking up a post at the Royal Prince Alfred Hospital as consultant in Anatomical Pathology.
The first time I met Annabelle was at the Bone and Soft Tissue Tumour meeting at Royal Prince Alfred Hospital where she was introduced in her new role by Professor Stan McCarthy who is now retired.
She made an immediate impression on me as a gentle quietly spoken pleasant person who clearly had a sharp eye for pathological diagnosis, supported by an excellent knowledge bank.
My biggest concern at the time was that she didn't seem to have a single stroppy bone in her body: All I could think was "How on earth is this lovely person going to be able to manage all these various clinicians and surgeons?"
I need not have worried. She quietly and confidently went about her business, and everyone rapidly realised she was a consummate diagnostician who galvanised every possible resource available to her in order to optimise the outcome for the patient.
Over the years she continued to impress us all with her competence, exuding care and enthusiasm at every turn, all delivered in a gracious manner. She became the lead pathologist in Orthopaedics at RPAH and through our collaborative multidisciplinary group, was involved in the diagnosis of at least 90% of the primary bone tumours and the vast majority of soft tissue tumours in the state of New South Wales. She provided a regional and countrywide consultation service and was responsible for molecular diagnoses in the bone and soft tissue sarcoma service, an area which has burgeoned in recent years. Her ability to remember the most esoteric details of individual cases and their even more esoteric and confusing genetic profiles was a wonder to behold.
Her other area of finely tuned expertise, lung pathology, which also required careful interdisciplinary interaction, was achieved with equal aplomb.
She taught at all levels of medical education, particularly to Pathology, Radiology, Radiation Oncology and Orthopaedic trainees. She did this so well that we now have generation of consultative and appreciative clinicians and surgeons.
She was a frequent contributor to or College Meetings, to the IAP and to the Australia and New Zealand Sarcoma Association in all of which she will be sorely missed.
Every pathologist in our region, beyond our shores, and around the world who knew Annabelle, grieves for her.
She was a loyal friend and companion to me at home and abroad where she shone on the international stage. Her platform presentations at the International Skeletal Society on a yearly basis at the prestigious members meeting were a lesson in the perfect art of presentation with the perfect mix of facts coupled with flawless illustrations and the most up to date knowledge. She impressed everyone with her exquisite comprehension delivered clearly and succinctly with humility and grace at every turn.
She had eclectic interests and was an avid reader, always ready with recommendations of various genres targeted for everyone's preferences. She loved film and theatre and indulged in these as often as she could.
She was generous to a fault, in body and spirit, carrying delicious gifts, but also lending a kind and inciteful ear, supportive and non- judging at every turn.
We are all of us woven from a variety of threads of varying size, colour, texture, flexibility and lustre. These are all woven into the fabric of our beings. Annabelle's fabric was a magnificent one, indeed the finest there can be. Her fabric created an exquisite tapestry which, like all beautiful works of art, is completely irreplaceable.
She is survived by her partner Steve, her parents, siblings and a large extended family.
By Fiona Bonar

RCPA Foundation:

Dr Annabelle Mahar Anatomical Pathology Trainee Memorial Prize

 
At the request of her colleagues at Royal Prince Alfred Hospital, Sydney the RCPA College Foundation is seeking to establish the Dr Annabelle Mahar Anatomical Pathology Trainee Memorial Prize in perpetuity. To establish this prize the College Foundation needs to raise $20K to award $2K per year to the winner annually.
The Dr Annabelle Mahar Anatomical Pathology Trainee Memorial Prize is for the RCPA Anatomical Pathology candidate who gains the highest aggregate mark in the part 2 slide examination.  In the event of more than one candidate having the highest mark, the Chief Examiner in Anatomical Pathology will select which of these candidates showed the highest diagnostic ability to receive the prize.   This Prize will be set up in memory of Dr Annabelle Mahar, MBBS, FRCPA, an esteemed pathologist with international recognition in pulmonary as well as bone & soft tissue pathology who was dedicated to registrar teaching.
If you are in a position to make a donation I encourage you to do so via https://www.rcpa.edu.au/RCPA-Foundation/How-to-Donate/Donation and please write Dr Annabelle Mahar in the donation comment.
All donations over $2.00 are tax deductible. Any enquiries please call Eve Propper on 02 8356 5806 or evep@rcpa.edu.au
______________________
CONGRATULATIONS for being recognised in the
2022 AUSTRALIA DAY HONOURS with membership in the General Division (AM)
Professor Alfred K. Lam (AM)
MBBS, MD, PhD, FRCPA, FRCPA (FFOP), FRCPA (Faculty of Science) FRCPath (UK),
FIAC, FHKCPath, FHKAM (Pathology)
Professor Lam is the Foundation Chair Professor in Griffith University with 30 years' experience in diagnostic and molecular pathology. His research focuses are on diagnostic and molecular pathology of cancers of gastrointestinal tract, endocrine, oral and head/neck. He has produced over 370 referred journal articles with the citation index (Scopus H index) for his publication at 53 in 2019. His research contributions made him awarded the best senior researcher by Griffith University's Vice Chancellor and the winner of Australian society of medical research Queensland health and medical research award.
Professor Lam has contributed to 3 editions of World Health Organization on classification of tumour since 2003. He is an expert editor of the Fifth edition of World Health Organization book on classification of Digestive tract tumour pathology. He also edited a book on Oesophageal cancer and contributed more than 40 book chapters.
Professor Lam chairs the development of a dataset for the reporting of oesophageal cancer by International Collaboration on Cancer Reporting (ICCR). He has also contributed to multiple structured cancer protocols in Australia and ICCR. At present, he is on editorial board of multiple international peer-review journals such as Pathology, Human Pathology, Endocrine Pathology, Endocrine-related cancer, International Journal of Molecular Sciences etc.
In professional committees, Professor Lam acts as principal examiner in Anatomical Pathology for Faculty of Science for the Royal College of Pathologists of Australasia. He is nominated as Honorary Secretory in Australasian Division of International Academy of Pathology (IAP).
Certificates of Appreciation
In recognition of their contribution as Directors to the Australasian Division of the IAP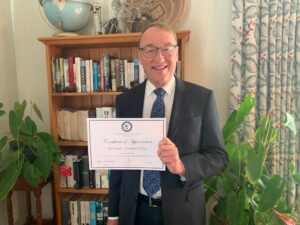 Cynric Temple-Camp completed his term on the board as New Zealand Councillor on 25 June 2020
Richard Williams completed his term on the board as Victoria Councillor on 25 June 2020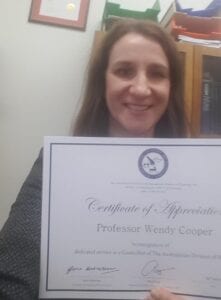 Wendy Cooper completed her term on the board as New South Wales Councillor on 25 June 2020
In recognition of their significant contribution as a Convenor to the Australasian Division of the IAP
Marais Combrinck completed his term as the Digital & Quantitative Pathology Companion Club Convenor in 2021
Ruta Gupta completed her term as the inaugural Head and Neck Companion Club Convenor in 2020