CONGRATUALATIONS
QUEENS BIRTHDAY HONOURS 2021
Professor Richard Anthony SCOLYER (AO)
Officer in the General Division
BMedSci, MBBS, MD FRCPA FRCPath FAHMS
Professor Richard Scolyer is a Senior Staff Specialist, Tissue Pathology and Diagnostic Oncology, Royal Prince Alfred Hospital, Sydney; Conjoint Medical Director, Melanoma Institute Australia; and Clinical Professor, The University of Sydney.
He is a Past President of the Australasian Division of the International Academy of Pathology. He provides a clinical consultation service for the diagnosis of difficult pigmented lesions and receives more 2000 cases for opinion from Australasia and beyond annually. His record includes co-authoring more than 500 publications with >30,000 citations. Richard has presented on more than 300 occasions at conferences throughout the world.
He received various NSW Premier's Awards for Outstanding Cancer Research in 2009, 2012, 2013, 2014, 2016, 2017 and 2018, Thomson Reuters 2015 Citation Award in the Clinical Medicine category, the 2018 William O. Russell/Joanne Vandenberge Hill Award in Anatomical Pathology, MD Anderson Cancer Center and the Research Australia's 2018 GSK Award for Research Excellence. Richard was editor,4th Edition World Health Organisation Classification of Tumours Skin Tumours in which he was responsible for 3 of the 6 sections and authored/co-authored more than 30 chapters. He is also Vice Chair of the Melanoma Expert Panel of the American Joint Committee on Cancer (AJCC) for the 8th edition of AJCC Cancer Staging System, co-leads the Australian Melanoma Genome Project (part of the International Cancer Genome Consortium). He is also an editorial board member of the American Journal of Surgical Pathology, Modern Pathology, Histopathology, Senior Associate Editor of Pathology and several other journals.
Certificates of Appreciation
In recognition of their contribution as Directors to the Australasian Division of the IAP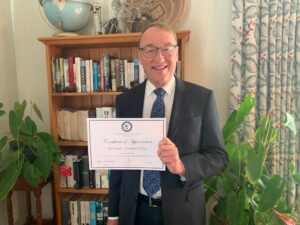 Cynric Temple-Camp completed his term on the board as New Zealand Councillor on 25 June 2020
Richard Williams completed his term on the board as Victoria Councillor on 25 June 2020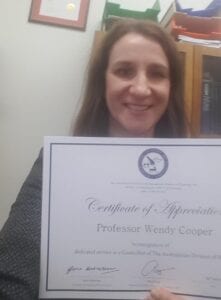 Wendy Cooper completed her term on the board as New South Wales Councillor on 25 June 2020
In recognition of their significant contribution as a Convenor to the Australasian Division of the IAP
Marais Combrinck completed his term as the Digital & Quantitative Pathology Companion Club Convenor in 2021
Ruta Gupta completed her term as the inaugural Head and Neck Companion Club Convenor in 2020
_____________________________________________________________________________________________________________________________
Distinguished Pathologist Recipient for 2021
Professor Anthony Gill
Anthony Gill completed training at Royal North Shore Hospital under the tutelage of a group of pathologists whom he greatly admires including A/Prof Robert Eckstein, Dr Judy Fryer and the late A/Prof Jeanette Philips. He completed his MD by publication with a particular interest in endocrine neoplasia emphasizing hereditary diseases associated with germline mutations in the SDH genes; and pancreatic carcinoma. He holds a personal chair as Professor of Surgical Pathology and the University of Sydney and is a senior staff specialist in anatomical pathology at Royal North Shore Hospital. He is the chairman of the Australian Pancreatic Genome Initiative (APGI). He has a broad interest in all areas of surgical pathology. In addition to over 500 original research publications, he serves as a member of the standing editorial board for the fifth edition WHO Blue Book Series.