Board of Directors & Social Media Representatives
The Board of Directors is comprised of the President, President-Elect, the immediate Past President, the Treasurer, the Honorary Secretary, two persons resident in the state of New South Wales, one person resident in each of the other states of Australia, one person resident in New Zealand and ex-officio members.
The present Board Members are :-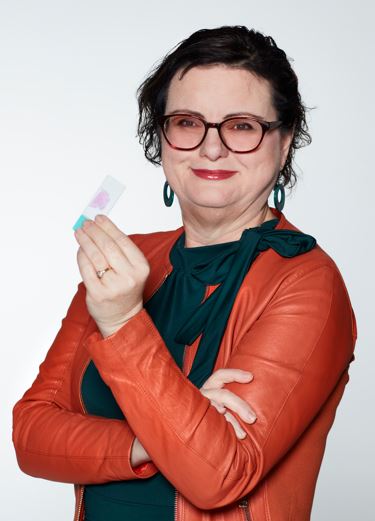 President
Clinical Associate Professor Fiona Maclean
MBBS (Hons I), BAppSc, FRCPA, GAICD
Clinical Associate Professor Fiona Maclean is Deputy Director of Histopathology at Douglass Hanly Moir Pathology, with special interests in urogenital and musculoskeletal pathology in particular. Assoc. Prof. Maclean graduated from the University of Sydney with First Class Honours. She initially worked as a resident medical officer at the Concord Repatriation General Hospital, where she was awarded Intern of the Year. Assoc. Prof. Maclean holds positions as Clinical Associate Professor in the Department of Clinical Medicine, Faculty of Medicine and Health Sciences, Macquarie University and Senior Lecturer at the School of Medicine, University of Notre Dame.
She has authored two chapters in the current edition of Sternberg's Diagnostic Surgical Pathology, and one chapter in the current edition of Histology for Pathologists,both of which are premier textbooks in the fields of pathology and histology.
She is passionate about teaching pathology and enjoys presenting lectures to people from all walks of life.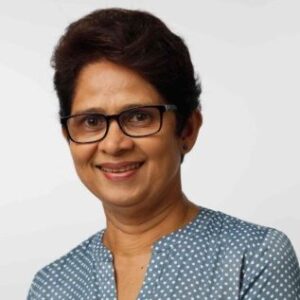 President-Elect
Clinical Professor Marian Priyanthi Kumarasinghe
MBBS, MD, Dip Cytopath (RCPA), FRCPA
Professor Kumarasinghe is a Senior Consultant Pathologist at PathWest (Public Pathology service in Western Australia), a Consulting Pathologist to Clinipath Laboratories and a Clinical Professor at the University of Western Australia Medical School. She is the President Elect of the Australasian Division of the International Academy of Pathology, the current chair of Structured Pathology Reporting of cancer project for the Royal College of Pathologists of Australasia (RCPA) and a Past President of the Australasian Gastrointestinal Pathology Society. She continues to contribute to multiple structured cancer protocols for RCPA and International Collaboration on Cancer Reporting (ICCR).
She specialises in gastrointestinal, pancreaticobiliary and endocrine pathology. She is a national and international authority on gastrointestinal pathology and has presented on numerous occasions at conferences throughout the world. She is a contributing author to the WHO classification of tumours of the digestive system, IAC-IRAC Cytopathology Reporting System for Pancreaticobiliary Cytopathology and the co-editor of text "endoscopic biopsy interpretation: a practical guide" – the first Australian text on gastrointestinal pathology. She has authored nearly 200 publications, several invited reviews and co-authored chapters on GI pathology and pancreatic and thyroid cytology. She is the recipient of the inaugural award by the official journal of Royal College of pathologists of Australasia "Pathology" in 2017 on her contribution to HER2 testing of gastric and gastroesophageal junctional cancers in Australia. In addition, she has won numerous academic awards dating back to her early career by many professional societies and governing bodies.
Past-President
Professor Jane Dahlstrom OAM
MBBS (Hons), PhD, FPAC, FRCPA, FFOP, FFSc, Grad Cert Ed Stud (Higher Education), SFHEA
Jane is a long-standing member of the Australasian Division of the International Academy of Pathology (IAP) joining as a registrar. Since 2012 she has been a member of the IAP Board, first as the Honorary Secretary (2012-2016), Vice-President Australasia on the IAP Central Executive (2016-2018) and President of our Division (2019-2021).
Since 2012 Jane has been particularly involved in further developing outreach pathology programs for those underserved regions of the world, both regionally and globally, and is the immediate past Chair of the Education Committee for IAP Central (2016-2020).
She is a senior staff specialist at ACT Pathology for Canberra Health Services and Chair and Professor of Pathology at the Australian National University (ANU).
Jane enjoys teaching and mentoring and is an active researcher with interests in breast, and perinatal and placental pathology.
Honorary Secretary
Professor Alfred K. Lam AM
MBBS, MD, PhD, FRCPA, FRCPA (FFOP), FRCPA (Faculty of Science) FRCPath (UK), FIAC, FHKCPath, FHKAM (Pathology).
Professor Lam is the Foundation Chair Professor of Pathology in Griffith University with 30 years' experience in diagnostic and molecular pathology. His research focuses are on diagnostic and molecular pathology of cancers of gastrointestinal tract, endocrine, oral and head/neck. He has produced over 450 referred journal articles with the citation index (Scopus H index) for his publication at 63 in 2022. His research contributions made him awarded the best senior researcher by Griffith University's Vice Chancellor and the winner of Australian society of medical research Queensland health and medical research award.
Professor Lam has contributed to 3 editions of World Health Organization on classification of tumour since 2003. He is an expert editor of the Fifth edition of World Health Organization book on classification of Digestive tract tumour pathology. He also edited 3 books on oesophageal and thyroid cancers, as well as involved in more than 70 book chapters.
Professor Lam chairs the development of a dataset for the reporting of oesophageal cancer by International Collaboration on Cancer Reporting (ICCR). He has also contributed to multiple structured cancer protocols in Australia and ICCR.  At present, he is Co-editor of Cancer Medicine and on editorial board of multiple international peer-review journals such as Pathology, Human Pathology, Endocrine Pathology, Endocrine-related cancer, International Journal of Molecular Sciences etc.
In 2022 Australia day, Professor Lam was awarded a Member of Order of Australia (AM) for his significant service to tertiary education, to research, and to pathology.
Honorary Treasurer
Assoc Professor Andrew James Dettrick
MBBS, FRCPA
Assoc Professor Andrew Dettrick is an Anatomical Pathologist, senior staff specialist and former Director of Pathology at Sunshine Coast University Hospital in Queensland.  His special interests include heart and lung pathology, head and neck pathology and skin cancer.  He is Adjunct Associate Professor of Pathology at University of the Sunshine Coast.  His current research is focused on cutaneous squamous cell carcinoma. 
Director (IAP Central Executive Council Representative)
Professor Gelareh Farshid
MBBS, MD, MPH, GAICD, FRCPA, FFSc (RCPA), FACP
Professor Gelareh Farshid is a fulltime senior Consultant Pathologist at SA Pathology, Royal Adelaide Hospital.
Professor Farshid enjoys long standing research interests and clinical expertise in diseases of the breast, population based screening and in soft tissue pathology. She contributes to multiple national and international professional bodies.
Gelareh has extensive experience in Clinical Governance and Executive Management, having served as the Clinical Director of BreastScreen South Australia for a decade, being a pathologist on the BreastScreen Australia National Quality Management Committee and serving as the Secretary of the International Society of Breast Pathology. She is a Graduate of the Australian Institute of Company Directors, and has a Doctorate in Medicine and a Masters Degree in Public Health.
Professor Farshid joined the Board of the IAP as Treasurer in 2017. From 14th October 2022, she has moved to the role of the Director (IAP Central Executive Council Representative).
The present Councillor members are :-
New South Wales/ACT
Associate Professor Ruta Gupta
MBBS, MD, FRCPA, Grad Cert in Higher Education.
Dr Gupta is a full time staff specialist at Royal Prince Alfred Hospital, Clinical Associate Professor at the University of Sydney, a member of the Sydney Head and Neck Cancer Institute (SHNCI) and a Visiting Scientist at the Garvan Institute of Medical Research. Her primary interests include head and neck pathology, genitourinary pathology and molecular pathology. Ruta serves on the Cancer Institute of NSW (CINSW) Head and Neck Cancer Surgery Clinical Advisory Group. She is also a member of the NSW Statewide BioBank Stakeholders Network and has developed the head and neck tumour biobank at the Royal Prince Alfred Hospital/Chris O'Brien Lifehouse. Ruta is a member of the RCPA Structured Pathology Reporting Committee for head and neck cancers and chairs the protocol development for larynx, neck node dissection and ear resection specimens.She is a member of the International Collaboration on Cancer Reporting (ICCR) for head and neck and of Training residents in Genomics (TRIG).
Ruta was the inaugural convenor of the Head and Neck Pathology Companion Club at the Australasian IAP.
Ruta's primary research interests include mechanisms of development and spread of cutaneous and mucosal squamous cell carcinoma and molecular pathology of salivary gland tumours. Her research interests focus on improving diagnostic methods and survival outcomes. She has mentored several medical students, pathology and surgical trainees present their work on national and international platforms as well as publish in scientific peer reviewed journals. She also serves on the editorial board of Head and Neck Pathology and Advances in Anatomic Pathology.
New South Wales/ACT
Dr Mahtab Farzin
MD, FRCPA
Dr Mahtab Farzin, MD, FRCPA, is an anatomical pathologist in the tissue Pathology and Diagnostic Oncology department at Liverpool/Campbelltown Hospital.
After practicing in clinical medicine at Gosford Hospital; she predominantly trained at Royal North Shore Hospital in histopathology.
She completed her Anatomical Pathology training 2015 with many achievements including several publications and obtaining Jeanette Philips Award.
After obtaining her fellowship she worked as a consultant at Orange Base Hospital for the first few years of her career.
Dr Farzin has a keen interest in research and is passionate about pathology-base medical education.
Victoria
Dr John Ciciulla
MBBS, B.Sc (Hons), FRCPA
Dr Ciciulla graduated from the University of Melbourne with BSc (Hons) in 2000. He conducted research in the genetics of breast cancer using microarray technology at the Peter MacCallum Cancer Centre and Murdoch Children's Research Institute. This was followed with an MBBS from the University of Melbourne in 2004. He undertook specialty training in Anatomical Pathology at the Royal Melbourne Hospital. Dr Ciciulla has worked as a consultant at the Alfred Hospital, Bendigo Hospital and at the Peter MacCallum Cancer Centre. He is an Honorary Clinical Lecturer in the Department of Pathology at the University of Melbourne.
Dr Ciciulla commenced for Sonic Healthcare at Melbourne Pathology in 2015. He has special interests in gastrointestinal/pancreatobiliary, head and neck, endocrine and neoplastic skin pathology. He is also interested in advancements in histopathology including structured reporting and digital pathology.
Queensland
Adjunct Associate Professor Duncan Lambie
BDSc, MBBS (Hons I), FRCPA
Duncan Lambie is Medical Director of Anatomical Pathology at Princess Alexandra Hospital and Adjunct Associate Professor with the University of Queensland Diamantina Institute. His main interest is dermatopathology with research interests in melanocytic pathology, keratinocyte pathology and perineural invasion.
South Australia
Dr Yanling Yang
MBBS, FRACP
Dr Yang is a graduate of University of New South Wales (2008). She was trained in Anatomical pathology in Liverpool Hospital in Sydney, then at various sites of SA Pathology in Adelaide. She gained her Fellowship in 2017 and had been working for both Clinpath and SA pathology for a number of years. She is working for SA Pathology at its Flinders Medical Centre lab. She is interested in Head and Neck pathology and Gynaecological pathology. She is also keen on registrar teaching and mentoring.
Tasmania
Dr Nada Dickinson
B Pharm, GradDipHospPharm, B Med, FRCPA
Dr Dickinson is a graduate of University of Newcastle Medical School (2000).   She gained her Fellowship in Anatomical Pathology in 2017, spending her final year at Launceston General Hospital and joined Launceston Pathology at the beginning of 2018. 
New Zealand
Dr Michael George Hitchcock
MBChB, MBA, FRCPA
Mike is an Auckland graduate, currently working as clinical lead pathologist at Anatomic Pathology Services, the community anatomic pathology laboratory for the Auckland region. His primary practice is dermatopathology. He worked in North Carolina, in university and private practice, for 28 years. Mike joined USCAP in 1991, served as President of the American Society of Dermatopathology. He maintains a keen interest in registrar teaching, including at APS, which now has an RCPA accredited dermatopathology training programme.
Western Australia
Dr Connull Leslie
MBBS (Hons), FRCPA
Connull is a graduate of the University of Western Australia, completing his degree in 2004, and is a Consultant Pathologist in the Department of Anatomical Pathology, PathWest Laboratory Medicine, QEII Medical Centre, Perth. He has an interest in Gastrointestinal, Head and Neck, Endocrine and Haematolymphoid pathology as well as non-cervical Cytology and application of Molecular Pathology in diagnosis. Since first attending the IAP as a Registrar he has been a speaker at several companion clubs.
Dr Ingrid Fewings
MBBS (Hons), BPhty
Dr Ingrid Fewings is a registrar in Anatomical Pathology at ACT Pathology in Canberra. She is in her third year of training and is in the interim role for the first Trainee Representative on the IAP Board.
She participates in medical student teaching at the Australian National University and provides a role model in Anatomical Pathology to the young upcoming junior doctors at the Canberra Hospital. Furthermore, she actively takes part in teaching and training of junior Anatomical Pathology registrars and scientists.
Social Media Representatives
Dr Tristan Rutland
MBBS, FRCPA
Dr Tristan Rutland graduated from the University of Wollongong (UOW) with distinction. In 2020, he was the recipient of the Konrad Muller RCPA Outstanding Teaching Award. He has experience in teaching all levels of medical training from 1st year medical students to final year pathology registrars and has a keen interest in teaching via non-traditional media (i.e. Twitter) . He is also involved in cross speciality training of registrars including dermatology and oncology registrars. Currently based at Liverpool hospital as an anatomical pathologist and is currently finishing his PhD in new biomarkers in rectal cancer.
Dr Zaid Househ
MBBS, FRCPA
Dr Househ is a staff specialist pathologist in Anatomical Pathology at Liverpool Hospital, NSW. He has subspecialist interest in lung neoplasms, lymphoma, and gastrointestinal pathology as well as a strong interest in digital pathology. He is a conjoint lecturer in Western Sydney University and a clinical lecturer in University of Wollongong. He obtained his medical degree from University of Jordan in 2008 and completed his anatomical pathology training in Wollongong and St George Hospitals followed by post graduate fellowship in general anatomical pathology in St George Hospital. He is heavily involved in educational activities for trainees in anatomical pathology, oncology, and radiology. He is a strong advocate for the use of social media to spread knowledge and promote the specialty of pathology.